The Neurosurgical Services at University Hospital offers a full range of diagnostic modalities, medical and surgical procedures, rehabilitation, preventive care and additional medical and support services for patients with neurological disorders. The program is comprised of a team of experienced neurosurgeons, neurologists, radiologists, neuroradiologists and internists.
Together, these medical and surgical specialists combine their expertise and experience to provide patients with the latest scientific advances in their respective fields.
Neurological Rehabilitation
By providing one-on-one care by licensed physical and speech therapists, an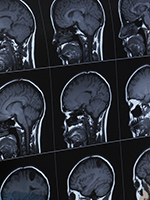 individualized treatment program is implemented to maximize the patient's recovery from their neurological procedure on both an in and outpatient basis.
Physical Therapy
These services include a variety of exercise and walking programs designed to improve the patient's strength, balance, coordination and endurance. Speech Pathology services include the use of Modified Video Fluoroscopy and exercise programs, that assist patients who have voice, speech and/or swallowing difficulties.