University Hospital and Medical Center now offers Lap-Band® Surgery and is partnering with Northwest Medical Center and their Bariatric Center of Excellence Program.
Morbid obesity is the number two preventable cause of death in the United States. Along with the physiological impact of morbid obesity, there are significant medical health issues that affect the body's mechanical and metabolic functions. These co-morbidities affect nearly every organ in the body and produce serious illnesses including diabetes, heart disease, gall bladder disease, gastroesophageal reflux disease, sleep apnea, respiratory insufficiency, high cholesterol, and arthritic symptoms of weight bearing joints, just to name a few.
Laparoscopic Adjustable Gastric Banding (Lap Band)
Laparoscopic Adjustable Gastric Banding (Lap Band), recalls the principle of doing the least invasive procedure possible to achieve the desired results. In this method, a band is placed at the top of the stomach, creating a small pouch. The opening to the rest of the digestive track is adjustable through a subcutaneous port. Most patients experience the same amount of weight loss however, at a slower rate. Indications for Lap Band surgery are the same as the Roux-en-Y.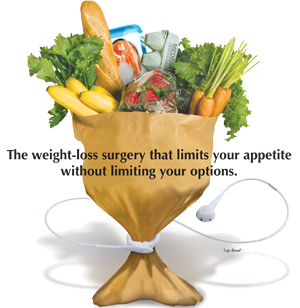 Insurance
Please check with your insurance provider to verify benefits and specific exclusions as each contract may vary.
All Lap Band Surgeries are performed at University Hospital and Medical Center. Please verify if University Hospital is a participating facility with your insurance carrier.
Insurance companies require a letter of medical necessity written by your primary care physician that must include certain "key words" as well as a psychological evaluation.
To learn more about Lap-Band® Surgery at University Hospital and for a free physician referral call (954) 172-6342.