If you think you may be experiencing a medical emergency, immediately call your doctor or 911.
Our Commitment to You
It is the policy of University Hospital and Medical Center that anyone who comes to our emergency department for examination and/or treatment of any emergency medical condition or for active labor will receive examination, stabilization treatment and/or transfer as determined by the patient's needs and the capabilities of the hospital.
The provision of emergency services and care shall not be based upon, nor affected by, the person's race, ethnicity, religion, national origin, citizenship, age, sex, pre-existing medical condition, physical or mental handicap, insurance status or ability to pay for medical services.
Need help finding a physician?
For routine health matters and check-ups, contact your primary care physician. Regular check-ups with a primary care physician is the best way to maintain good health.
Visit Find a Physician on this website, or call (954)724-6342 for a free physician referral.
Senior-Friendly Emergency Care
Our newly renovated Emergency Room includes special accomadations for senior patients including:
Specially trained staff
Designated private rooms
Additional safety features such as enhanced lighting, handrails and large print communications.
Kid Friendly Care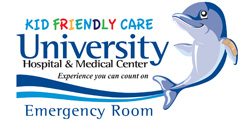 The Kid Friendly Care area offers a team of experienced emergency care physicians, nurses and staff available 24 hours a day, seven days a week, and features a warm environment with a décor in a child-friendly ocean theme. Kid Friendly Care includes prompt diagnosis and treatment for a range of non-emergent conditions, including colds, flu, minor sprains and strains, minor cuts, ear and sinus infection, abdominal pain, burns and broken bones. Life-saving emergency procedures such as intubation and stabilization also can be performed if necessary.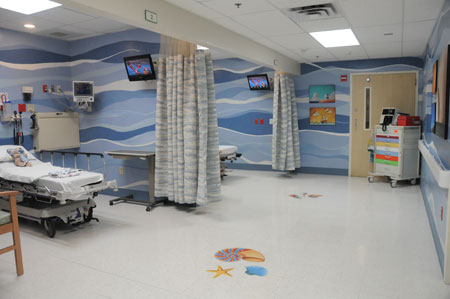 The Emergency Department: What to Expect
Early in your visit to the Emergency Department you will meet with a triage nurse who will ask you questions about your health problems or that of your family member. At that time, your vital signs, such as temperature, pulse and blood pressure may be taken. The triage nurse's responsibility is to utilize criteria to prioritize patient care in the Emergency Department. This means the triage nurse will screen your condition and, based on the nature and extent of your injury or illness, refer you to the ED physician or other qualified medical person for a medical screening exam (MSE).
In general, we categorize patients into one of the following groups:
Resuscitation: Examples include, but are not limited to, cardiac arrest (heart stopped), respiratory failure, unconsciousness, active seizures, anaphylaxis, insulin or septic shock.
Emergent: Examples include, but are not limited to, acute chest pain, multiple injuries, severe allergic reactions, overdose (if unconscious), congestive heart failure, serious infection, hyperthermia and hypothermia.
Urgent: Examples include, but are not limited to, burns, moderate pain and broken bones.
Semi-urgent: Examples include, but are not limited to, earache, abdominal pain, and upper respiratory symptoms.
Semi-urgent and non-urgent cases may wait until all resuscitation, emergent and urgent cases are cared for first. If another patient arrives after you, but sees the doctor before you, he or she is likely in a resuscitation, emergent or urgent condition.
If you have a medical emergency or are in labor, you have the right to receive the following care within the capabilities of this hospital's staff and facilities, even if you cannot pay or do not have medical insurance or you are not entitled to Medicare or Medicaid:
An appropriate medical screening exam
Necessary stabilizing treatment (including treatment for an unborn child)
An appropriate transfer to another hospital, if necessary
The triage process occurs at the beginning of your treatment; we hope that you will wait and receive your medical screening exam and complete medical treatment, as appropriate. If you begin to feel worse or experience more pain during your wait, please promptly tell the triage nurse.
If after a medical screening exam, the Emergency Physician or qualified personnel determines that your medical condition is not urgent, emergent, or requiring resuscitation, you will be given the following options:
Stay to see the Emergency Department doctor for care and treatment after being registered and paying the hospital fees for such medical care and treatment
Follow up with your family physician
Seek medical care and treatment at a community clinic. A list of community resources is being provided to you for your reference. If your condition worsens, you may return to the Emergency Department for care.
The MSE enables us to direct our Emergency Department resources to patients in need of emergency care and educate patients about alternative, potentially lower-cost community resources for medical care and treatment for non-emergent and urgent conditions.
University Hospital and Medical Center prides itself on providing the highest level of care to our patients. As a patient, it is important that you are familiar with our policies and procedures to ensure that your experience with us is positive.
How Long Will I Be Here?
Again, the time you can expect to be in the emergency room will depend upon a number of factors including:
Your complaint and the evaluation and treatment that is necessary
The number of incoming ambulances with urgent cases, which is very unpredictable
The number of patients waiting for treatment at any given time and the severity of their illness or injury. Although your problem is certainly important to us, your patience and understanding in treating life-threatening cases before treating less severe cases are greatly appreciated.
Blood and urine test results are available about one hour after specimens are collected. Please be advised that other tests may take longer.
If x-rays are ordered, they are usually obtained in the order requested, except for those deemed "urgent." The length of time needed for x-rays to be taken and evaluated is dependent upon the number of patients in the emergency department at the time.
Possible Dispositions:
Discharge after treatment is completed. We will supply you with written and verbal discharge instructions (and prescriptions if indicated) before you leave the hospital. Please allow us time to do this, as it is important to your medical care
Consultation with (or referral to) your own doctor or a specialist. The time this may take depends upon your doctor's/specialist's availability and response time. We will keep you notified of your status but please be aware we cannot control physicians' schedules or other emergencies.
Admission to the hospital and transfer to your room. This requires orders from your admitting physician (NOT the emergency department physician), the availability of a room and communication from the emergency department nurse to the floor nurse. Your patience in this situation is greatly appreciated.
Transfer to another facility. In the event you should require a service not provided by our facility, or you request a transfer, arrangements will be made as expeditiously as possible.
Family and Friends of Emergency Department Patients:We appreciate your concern about your family member or friend who is a patient in our emergency department. We will inform you of any progress being made in the evaluation, as well as any change in the patient's condition. Please keep in mind that the patient's care is our highest priority.
ICE Card
When an emergency occurs and time is of the essence, we want to be seen quickly and by the right doctors. At University Hospital and Medical Center, fast turn-around time is one of the many reasons we have outstanding patient satisfaction scores. In addition to having the latest technology, our ER physicians are all board-certified.
We all know that emergencies have a funny way of happening when we least expect them. With that in mind, we would like to provide you with a great tool: An I.C.E. card - In Case of Emergency. This card can save valuable time and provide vital information to E.M.S. personnel and your caregiver if the need arises. Simply fill it out, carry it in your wallet and hope that you never need to use it.
To receive your ICE card and a free gift (while supplies last) simply call 1-866-4HCA-DOCS (442-2362).
Emergency Related Health Content
Go Red For Women™ presents: 'Just a Little Heart Attack'
You're never too young to start taking care of your heart.
Click here to view the Heart Attack Warning Signs for Men vs. Women
See also: